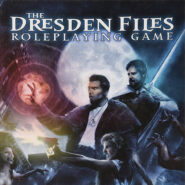 It's time for your Fab Four Halflings to accept their fates…FATE Core, that is! We sit down and cover our first FATE game in the guise of The Dresden Files RPG, based on the bestselling book series by Jim Butcher. We learn about Fate Dice, Aspects, and how DM Jim's questions leave DM Corbett with answers that involve a lot of the word "maybe". Wizards complaining about fireball ranges, vampires in bowling alleys, and more await your ears in this episode of Save for Half! Nevermore!
No Black Court Vampires were harmed in the making of this show, because they're all dead anyway.
Links mentioned in this show:
Dresden Files Wikipedia
https://en.wikipedia.org/wiki/The_Dresden_Files
Evil Hat's The Dresden Files RPG
https://www.evilhat.com/home/dresden-files-rpg/
Jim Butcher's website – Dresden Files
https://www.jim-butcher.com/books/dresden
Wuthering Heights RPG
http://unseelie.org/rpg/wh/
Don't forget to drop us an email at saveforhalfpodcast (at) gmail (dot) com to give your opinions of the show!
Be sure to check out our forums at:
Save for Half at Original D and D Forums
http://odd74.proboards.com/board/77/save-half-podcast
Save for Half at OSRGaming
http://www.osrgaming.org/forums/index.php?board=37.0
And find us on social media:
Save for Half at Facebook
https://www.facebook.com/saveforhalf/
Save for Half at MeWe
https://mewe.com/join/the_save_for_half_podcast
Save for Half Patreon
https://www.patreon.com/saveforhalf
Podcast: Play in new window | Download
Subscribe: Apple Podcasts | RSS