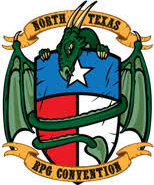 Yes there was in fact a North Texas RPG Con this year; both virtual and live tracks. Your Halflings read some emails and then discuss their time at the con. Chris Holmes, son of J. Eric Holmes, was the only one of us actually in person at the convention, and so he tells the "live" part of the convention activities. Who ran what? Who attended what? And we answer the most important question of all; who killed Colonel Mustard?
No Joshua Trees were harmed in the making of this show, not even the walking ones!
Links mentioned in this show:
North Texas RPG Con 2020
https://tabletop.events/conventions/ntrpgcon-2020
Talking Crit with BadMike (w/DMs Mike & Liz)
https://drive.google.com/file/d/1u3VAea4sNp-sd3gcr6eH2IbMtEGB4XD7/view?fbclid=IwAR20XKqcoWTTq3Z5FVZMdMy1nYqT8oXt4SLZEvvj7-KtACuy4z9F2oOhcGU
Don't forget to drop us an email at saveforhalfpodcast(at)gmail.com to give your opinions of the show!
Be sure to check out our forums at:
Save for Half at Original D&D Forums
http://odd74.proboards.com/board/77/save-half-podcast
Save for Half at OSRGaming
http://www.osrgaming.org/forums/index.php?board=37.0
And find us on social media:
Save for Half at Facebook
https://www.facebook.com/saveforhalf/
Save for Half at MeWe
https://mewe.com/join/the_save_for_half_podcast
Save for Half Patreon
https://www.patreon.com/saveforhalf
Podcast: Play in new window | Download
Subscribe: Apple Podcasts | RSS