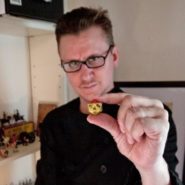 Jenkies! It's time for another groovy episode of Save for Half! This time the Fab Four are joined by Jon Peterson, author of the book Playing at the World and all around fun guy from Yuggoth to discuss the RPG scene of the 1970s, a time where our hobby first got its roots set into the hearts and minds of millions. Fun, games, and fanzines are discussed, so take a listen on your 8-track, vinyl, or cassette!
No K-Tel records were harmed in the making of this podcast, not even for $19.99 + shipping and handling.
Links mentioned in this show:
Alarums & Excursions website
http://www.conchord.org/xeno/aande.html
Playing at the World on Amazon
https://www.amazon.com/Playing-at-World-Jon-Peterson/dp/0615642047
Playing at the World blog
http://playingattheworld.blogspot.com/
Don't forget to drop us an email at saveforhalfpodcast(at)gmail.com to give your opinions of the show!
Be sure to check out our forums at:
Save for Half at Original D&D Forums
http://odd74.proboards.com/board/77/save-half-podcast
Save for Half at OSRGaming
http://www.osrgaming.org/forums/index.php?board=37.0
And find us on social media:
Save for Half at Facebook
https://www.facebook.com/saveforhalf/
Save for Half at MeWe
https://mewe.com/join/the_save_for_half_podcast
Podcast: Play in new window | Download
Subscribe: Apple Podcasts | RSS