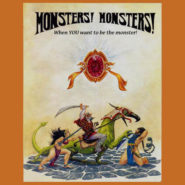 Welcome to the mash…the Monster Mash? Your trio of Halflings (with a surprise 4th joining the cast) delve into an unusual little RPG of the mid-1970s called Monsters! Monsters! by Ken St. Andre. The author of Tunnels & Trolls decided to give the enemies of heroic parties their own side of the game, and we give you the goods….and the bads, and the uglies!
No Crones were harmed in the making of this podcast, not even the young ones!
Links mentioned in this show:
Check This Artifact Kickstarter by Jim Wampler
https://www.kickstarter.com/projects/checkthisartifact/check-this-artifact
Monsters! Monsters! at DTRPG
https://www.drivethrurpg.com/product/84227/MonstersMonsters
Monsters! Monsters! hardcopy at Flying Buffalo, Inc.
http://www.flyingbuffalo.com/mm.htm
Swords of Jordoba (Liz & Jim Actual Play)
https://www.youtube.com/playlist?list=PLptTCxApuRIinLEHii08sDQxW-V2V3d4U
Don't forget to drop us an email at saveforhalfpodcast(at)gmail.com to give your opinions of the show!
Be sure to check out our forums at:
Save for Half at Original D&D Forums
http://odd74.proboards.com/board/77/save-half-podcast
Save for Half at OSRGaming
http://www.osrgaming.org/forums/index.php?board=37.0
Podcast: Play in new window | Download
Subscribe: Apple Podcasts | RSS