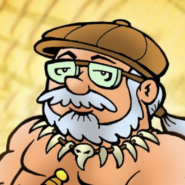 HUR-rey, HUR-rey! HUR-rey! Come one, come all to the Save for Half Sideshow! We read some more emails from the fans, discuss minis at the table, and move into Part 2 of our talk with The Curmudgeon himself—Tim Kask. This show he talks about his return to the hobby in the 2000s and his work as consulting editor of Gygax magazine. We wrap up with discussions of where publishing is going in the digital age, so listen!
No magazines were harmed in the making of this episode, not even the digital ones!
Links mentioned in this show:
Curmudgeon in the Cellar – Tim Kask
https://www.youtube.com/playlist?list=PLGZxCpsSS2FlkBz-3G7R88uwHGXhj2ewh
Gygax Magazine #1
http://www.drivethrurpg.com/product/111516/Gygax-magazine-issue-1?filters=0_0_0_44499_0
Don't forget to drop us an email at saveforhalfpodcast(at)gmail.com to give your opinions of the show!
Be sure to check out our forums at:
Save for Half at Original D&D Forums
http://odd74.proboards.com/board/77/save-half-podcast
Save for Half at OSRGaming
http://www.osrgaming.org/forums/index.php?board=37.0
Podcast: Play in new window | Download
Subscribe: Apple Podcasts | RSS