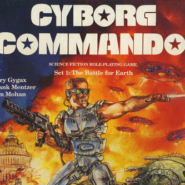 This 1987 RPG, produced by Gary Gygax and Frank Mentzer with Kim Mohan, has a reputation in the gaming hobby as one of the worst RPGs ever designed. But is it really that bad? Your determined Save for Halfling DMs take a dive into this game and see if it lives up to its reputation or is instead a gem in the rough!
Links mentioned in this show:
Designers & Dragons – Evil Hat Productions
New Infinities Productions history on Wikipedia
Sanctum Secorum – A Library of Dark Thoughts
The Kingdoms – Interview with Gary Gygax
Don't forget to drop us an email at saveforhalfpodcast(at)gmail.com to give your opinions of the show!
Be sure to check out our forums at:
Save for Half at Original D&D Forums
Podcast: Play in new window | Download
Subscribe: Apple Podcasts | RSS