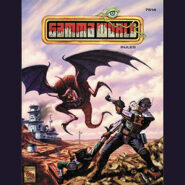 What's this? Your Fab Four covering Gamma World again? Keep patient True Believers, because this isn't the Gamma World you remember from the late 1970s. This is the 1992 revamp of our favorite game of mutations and murderbots! New rules system, new mutations, and yet the same favorite mutant creatures you know and love. Is it better? Worse? Tune in and find out in this episode of Save for Half!
No mutants were harmed in the making of this podcast, since some of the mutations will do that for us!
Links mentioned in this show:
Gamma World 4th Edition Product List
http://gammaworld.us/fourthedition/Products4thEdition.aspx
Gamma World on DrivethruRPG
https://preview.drivethrurpg.com/en/product/245238/Gamma-World-Game-Rules-4e
Gamma World on Wikipedia
https://en.wikipedia.org/wiki/Gamma_World
Don't forget to drop us an email at saveforhalfpodcast(at)gmail.com to give your opinions of the show!
Be sure to check out our forums at:
Save for Half at Original D&D Forums
http://odd74.proboards.com/board/77/save-half-podcast
And find us on social media:
Save for Half at Facebook
https://www.facebook.com/saveforhalf/
Save for Half Patreon
https://www.patreon.com/saveforhalf
Podcast: Play in new window | Download
Subscribe: Apple Podcasts | RSS