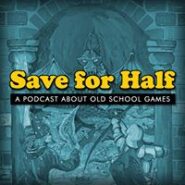 Don't worry, this isn't like those old TV shows where you get a "new" episode and it's just the cast reminiscing and replaying clips from the previous year to fill out a show. This is all new, off the cuff attempts by your Halflings to remember what they've done in the past year! DM Mike remembers some work he did for an RPG, and that he got paid for it. DM Jim remembers SciBar; because DM Liz and I got everyone to call the 'zine that now! DM Corbett asks himself why he's stuck with all these old coots! All this and more await you, so get to listening while waiting for Santa to bring you that wood-grain box set of OD&D!
No manuscripts were harmed in the making of this podcast, except the ones that had only 1 space after a period.
Links mentioned in this show:
Gamehole Con 
https://www.gameholecon.com
Long Con in Longview, TX
https://longconrpg.com
Operation: White Box by Small Niche Games
https://www.drivethrurpg.com/product/251318/OWB001-WWII-Operation-WhiteBox-FREE
Total Con 2022
http://www.totalcon.com
Don't forget to drop us an email at saveforhalfpodcast(at)gmail.com to give your opinions of the show!
Be sure to check out our forums at:
Save for Half at Original D&D Forums
http://odd74.proboards.com/board/77/save-half-podcast
Save for Half at OSRGaming
http://www.osrgaming.org/forums/index.php?board=37.0
And find us on social media:
Save for Half at Facebook
https://www.facebook.com/saveforhalf/
Save for Half at MeWe
https://mewe.com/join/the_save_for_half_podcast
Save for Half Patreon
https://www.patreon.com/saveforhalf
Podcast: Play in new window | Download
Subscribe: Apple Podcasts | RSS